IBC Expo, Amsterdam, September 6th, 2022: Forsway, a provider of innovative, cost-efficient solutions for enabling broadband connectivity in underserved regions, today announced its next generation of satellite terminals. Produced by strategic manufacturing partner, Zinwell, the new Forsway Odin F-60 and Odin F-60 Pro terminals will be available in Q1 2023 and will succeed the F-50 model. Previews of the new terminals will be available during IBC Expo, Sept. 9-11, Amsterdam.
Forsway's innovative hybrid satcom hardware and technology combine satellite with existing terrestrial technologies enabling broadband services for users in a host of underserved markets still lacking reliable internet access. Following Forsway's tradition of connecting the unconnected, the new generation of Forsway satellite terminals will help operators and service providers offer high speed cost-efficient connectivity in regions where they previously lacked the ability to deliver reliable broadband services to end users.
About Forsway's Odin F-60 series
Forsway Odin F-60 and Odin F-60 Pro are cost-effective, high-performance satellite routers developed for hybrid IP services by tapping a combination of satellite and terrestrial data. The benchmark technology and equipment harness DVB-S2/(X)/ACM for downlink with the ability to combine a wide range of terrestrial return channels.
– "As market needs continuously evolve, the new generation of Odin F-60's produced by technology partner, Zinwell, have been developed to meet more advanced customer demands for networking performance and satellite bandwidth efficiency, says Edvin Lindkvist, CTO at Forsway. The new feature-rich F-60's will also cater to new use cases such as advanced SD-WAN and edge computing capabilities."
– "In addition to the new F-60 and F-60 pro, Forsway is designing a tailor-made version together with a long-time business partner for deployment with their professional satcom operations. Details will be released later. "
The  Forsway Odin F-60 Pro comes equipped with an integrated LTE modem and doubles the data bandwidth from satellite, whereas the F-60 is a more cost-efficient version for scenarios where mobile connectivity and the highest throughput are not required.
Forsway products provide improved broadband access in regions that experience fragmented or insufficient connectivity. The company's unique hybrid solutions enable operators and service providers to offer reliable connectivity packages in both emerging markets and the vast quantity  of rural areas found in most industrialized countries. 
IBC Expo, Sept. 9-11, Amsterdam: Previews of the new terminals will be available. Contact Forsway at brandter@forsway.com to book a preview.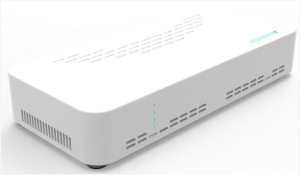 Click on Forsway Odin F-60 image to enlarge
Key Features
– Higher throughput; to 200 Mbit/s (satellite to LAN)
– Internal expandable storage for content delivery use cases storage
– Internal LTE module (in F-60 Pro edition)
– Supports DVB-S2X and GSE for improved satellite
bandwidth efficiency
– Integrated high-performance Wi-Fi 5 access point
– Support for running edge workloads
Applications
Hybrid broadband internet services over satellite, as CPE in the Forsway Xtend System.
Content reception and storage from satellite multicast.
Gateway for multicast ABR streaming.
Target for running large-scale containerized edge workloads, distributed, and controlled using satellite multicast.
The router integrates all functionality required for hybrid internet over satellite connectivity. For simplified installation, the satellite service provisioning is completely automatic.
Return Channels
Integrated LTE modem (in the F-60 Pro edition)
Mobile USB dongles
ADSL modems and other Ethernet network devices
—-
Forsway's unique, innovative products and technology solutions combine satellite with existing telecom networks enabling broadband services for large demographics of users in underserved markets lacking reliable internet access. Forsway's unique solutions eliminate the need to deploy additional network infrastructure, creating significant time and cost savings for operators and service providers. The Forsway Xtend ecosystem is a complete toolkit and cost-effective hybrid satellite extension challenging the traditionally high cost of connecting hard-to-reach, underserved markets – rural areas in both emerging and established markets. Xtend is designed to remove the complexity of rolling-out satellite broadband to regions with limited infrastructure and monetize unused operator bandwidth. Learn more at www.forsway.com and follow us on LinkedIn, Twitter, Facebook and YouTube.
About Zinwell
Zinwell was founded in Taiwan in 1981 and went public in 1999. Zinwell has grown to be a leading provider of Digital Cable / Satellite / Terrestrial receiving equipment, Broadcast and Broadband Communication equipment, IPTV receiving equipment, Wireless equipment, 5G and IoT products in Taiwan. Based on extensive experience and expertise in a global market, Zinwell has laid the groundwork for long-term development and future-oriented innovation. Our highly skilled team works continuously to foster technical know-how, products, and a partnership that creates future value for our customers, prioritising creativity, and a focus on the newest latest? technological trends. Zinwell makes your life well.
Forsway Scandinavia media contacts
Leslie Johnsen
Communications Director
Mob: +47 41 45 80 43
Email: leslie.johnsen@forsway.com
Tobias Forsell
Forsway CEO
Mob: +46 70-979 70 52
Email: tobias.forsell@forsway.com