Inside view: Invitation to meet Forsway's Chairman
Join us for a mini interview/Q&A with Chairman, Mats Andersson, for a more personal side of Forsway.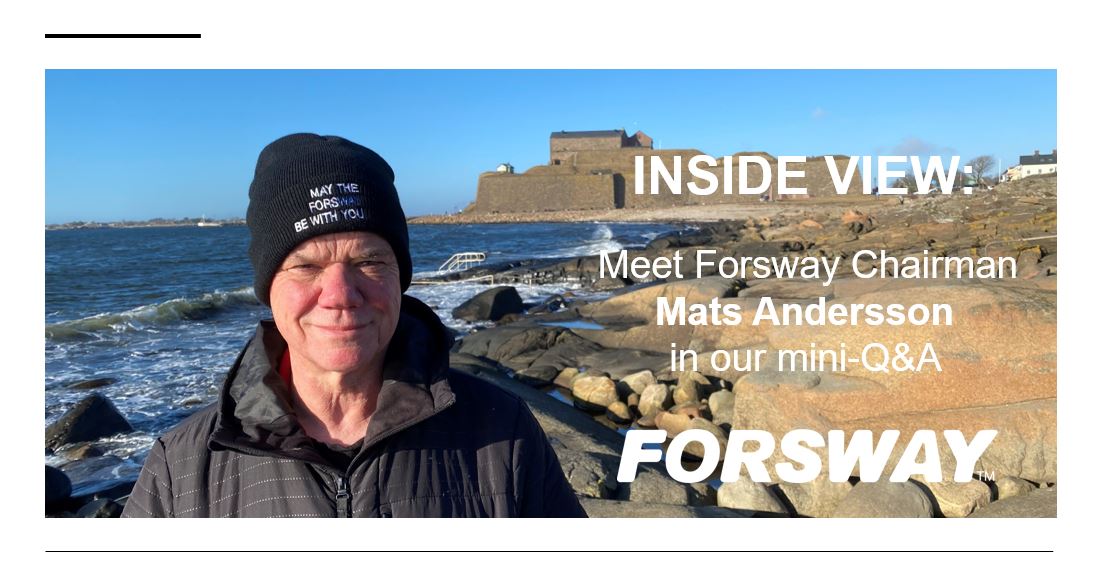 Please share a little about your background (a personal perspective).
I was born and raised in Uddevalla, a small town about 90 km north of Gothenburg, Sweden, the oldest of five siblings. In 1977, I made the move to Gothenburg to study Engineering Physics at Chalmers University of Technology. After earning my degree in Engineering Physics in 1982, I joined a Ph.D. program in radio astronomy.  Upon completion of a licentiate degree in radio astronomy in 1985, I launched my career in satellite communication at Ericsson.
Passionately interested in space since childhood, I feel deeply privileged to have had the opportunities that have enabled me to spend about half of my professional life working with the exciting evolution of satellite communications. The other half has been in another extremely exciting and fast-moving area, the evolution of mobile telephony where I have significantly contributed to new 2G, 3G, 4G and 5G products.
One of many notable turning points in my life, a one-year break from my technical studies in 1981 to attend English studies quickly became one of the best moves in my life. At the University of Sussex, in Brighton, I met my wife, a fellow Swede also studying English. Both an architect and teacher of languages, today we share two adult children. Today, after living in Gothenburg for many years, we enjoy residing in Varberg, a charming seaside town about 80 km south of the city.
Please share something we don't already know about you.
I have a Bachelor of Arts in English literature, one of my many personal passions. My bachelor thesis was on "Scientific and Technological Ideas in Mark Twain´s A Connecticut Yankee at King Arthur´s Court".
Tell us about 3 things you enjoy doing in your free time.
Taking long walks on the Varberg waterfront, all seasons. The sea is fascinatingly different every day.
I read a lot. My favorite genres are Russian classical literature and Science Fiction.
Studying. Currently I am studying Russian literature at the University of Gothenburg on a 50% basis. A couple of years ago I studied theoretical philosophy full time for a year. Both are and have been both extremely interesting and rewarding.
In my youth, I took 3 years of  Russian in high school, and this autumn I plan to pick it up again and study the Russian language at university level in 50% study.
Do you have any special items on your "bucket list" you would like to share, or things you have already accomplished?
Always keen to learn and try out new things, I have been a designer, researcher, project manager, and department manager at several different large international companies. I have been CEO of Bluetest, an extremely successful start-up. I am and have held numerous board positions and Chairmanships at several start-up companies with world-leading technology.
I hold a strong interest in other cultures and genuinely enjoyed working in Canada for a year and  England for two years; both were great opportunities bringing both personal and professional growth. I feel extremely fortunate to have worked with many exceptional and innovative people throughout my career from varying cultures and countries, such as Japan, China, Taiwan, India, USA, Canada, Ecuador, UK, Germany, France, Italy, Spain, Finland, Denmark, and Norway.
What is your favorite thing or things about working with Forsway?
That we are providing a low-cost broadband solution to reduce the digital divide. I have experienced lack of internet, dial-up internet, ADSL internet and Gbit fiber Internet. In today's world, regardless of where you live, having broadband Internet is critical and will only increase in importance. 2 Mbps is a huge improvement compared to dial-up. 10 Mbps is enough for almost all services. Both Forsway and myself share the ambition that everyone should experience the joy of being able to have any information on the web available to them almost instantly, regardless of where they live or their socioeconomic background.