Xtend Saga EMS – Encapsulator Modulator System
The Forsway-branded Xtend Saga EMS product is a high-performance DVB-S2 Modulator and IP Encapsulator featuring ACM (adaptive coding and modulation) and MPE (Multiprotocol Encapsulation) support, fully integrated with the Forsway Xtend complete satellite extension ecosystem.
The Xtend Saga EMS modulators and encapsulators provide efficient transmission of satellite data. Xtend Saga EMS ensures adaptation of IP data provided by the Forsway Mímir Gateway for transmission-over-satellite and is a key component of the Forsway Xtend Hub. The Forsway EMS system currently supports DVB-S2/ACM with MPE encapsulation, while hardware provided by the EMS also supports these features.
Key benefits
Significantly simplified workflow

Pre-integrated with Forsway Mimir NMS, enabling operators to seamlessly control operations from one portal

Provides benefits on performance, pricing, and robustness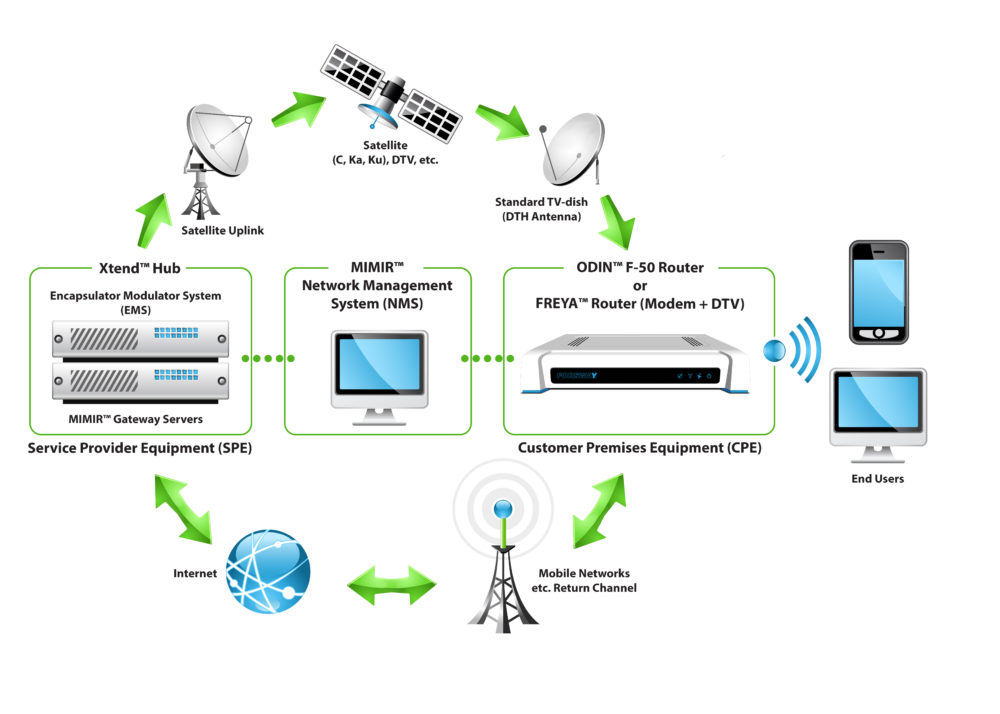 Saga EMS ensures optimal efficiency in the transmission of satellite data
Modulator
Supported standards: DVB-S2/ACM (including partial DVB-S2X support)

Output frequency: 32-2186 MHz

Bandwidth: Up to 72 MHz

Symbol Rate: 0.088 – 68.5 MSym/s

Constellations: QPSK, 8PSK, 16APSK

Coding: 1/2, 1/3, 1/4, 2/3, 2/5, 3/4, 3/5, 4/5, 5/6, 6/7, 7/8, 8/9, 9/10

FEC-frame: Normal/Short

Pilots: On/Off

Roll-off: 5%-35%

Output Level: -60 – 0 dBm

Output Connector: SMA 50 ohm